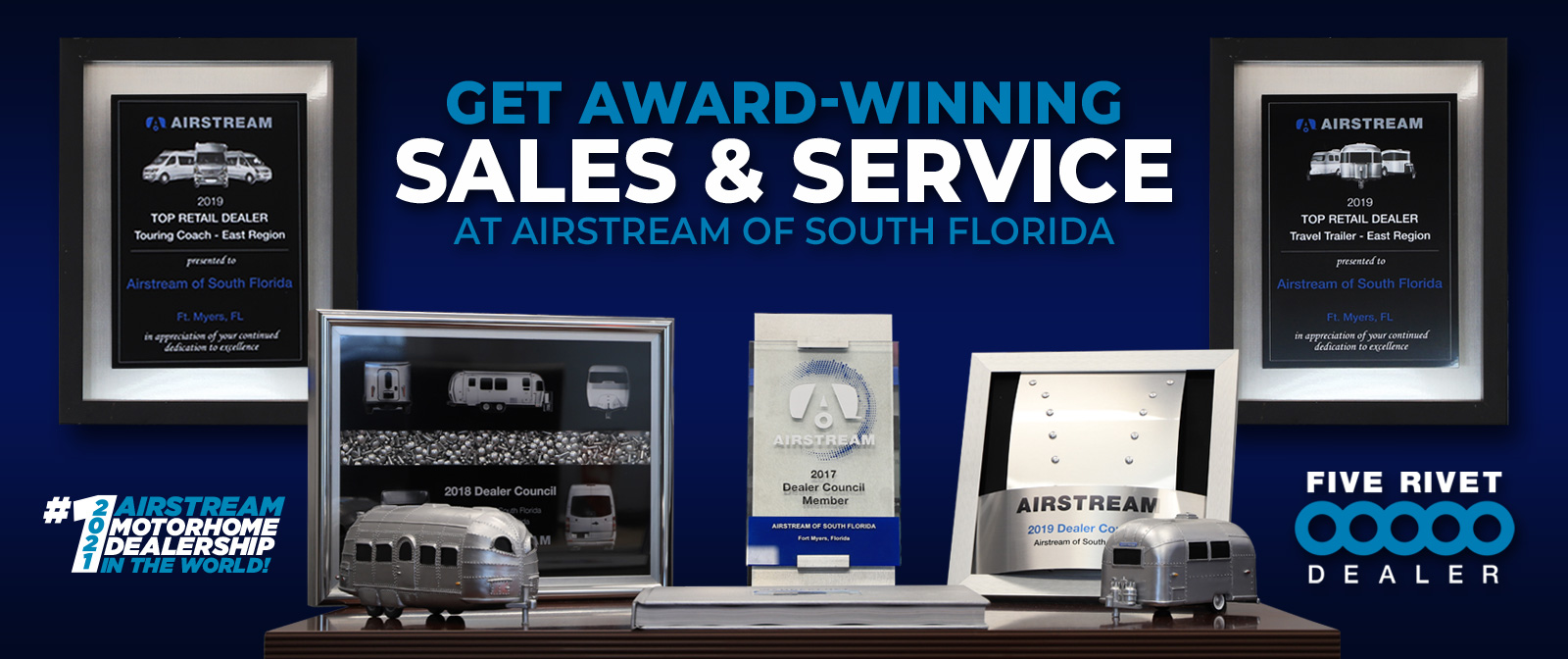 AWARDS & ACCOLADES
A Top-Tier Airstream Touring Coach & Travel Trailer Dealer
AWARD-WINNING AIRSTREAM DEALERSHIP IN FORT MYERS, FLORIDA
The team at Airstream of South Florida knows what it takes to please a customer. We have all been one at some point, and we understand how people should be treated. We work hard to make certain each and every customer leaves our dealership with the most positive experience possible. This hard work and diligence is returned in many ways — new friendships, "thank you" notes from happy customers and top dealer awards, to name a few.
‍
Airstream of South Florida has received numerous awards because of our dedication to customer service, ultimate customer satisfaction and recognition for top sales performances. We are one of the most successful Airstream dealers in Florida. We are proud of our accomplishments and would like to show new and present customers alike a sense of who we are, where we come from and how we like to conduct business.


Meet The Experts That Make Us #1

Experience the Difference
Every Airstream Travel Trailer is crafted from an average of 3,000 rivets which is the foundation of the quality aluminum shell. Top dealerships are built with only five rivets which all exemplify a key touchpoint in creating a superior customer experience.


Pre-Purchase

Sales Process

Delivery

Service

Loyalty

Pre-Purchase

Sales Process

Delivery

Service

Loyalty
Airstream's Five Rivet Dealer Standards Program requires dealers to meet minimum standards for both sales and service. Upon meeting those standards, dealers must then receive exceptional scores on customer service surveys. Only the top Airstream dealers who have successfully met the highest standards in both sales and service are recognized for their accomplishments and can be identified with the Airstream Five Rivet Dealership mark.

At Airstream of South Florida, the passion for this great American icon "Airstream", is evident in everything we do. We are the only place you'll want to go to buy your new or used Airstream or to have your Airstream services performed. Year after year, we have continued to build our reputation and our success by creating happy and satisfied Airstreamers. So Run Free in an Airstream, where your outdoor adventure will be unmatched and Five Rivet Certified. Visit us today to experience the Airstream of South Florida difference!