AIRSTREAM TRAVEL TRAILERS
Airstream
CLASSIC
The Flagship Travel Trailer
offers every comfort of home you want – plus plenty of amenities you didn't even know you needed. Hit the road knowing you'll start and end each day surrounded in features that transform a road trip into a true getaway.
Airstream
GLOBETROTTER
®
Modern Design Done Right
From its crisp, clean lines to its delicate neutral colors – the Globetrotter Travel Trailer is the epitome of modern style. It's the perfect statement-making complement to any unforgettable adventure.
Airstream
International
Your Own Personal Sanctuary
With easy, peaceful style and purposeful design, the International Travel Trailer earns its name everywhere you look. Ready to excite as well as comfort, it's all about a fine balance that makes for the perfect adventure.
Airstream
POTTERY BARN
SPECIAL EDITION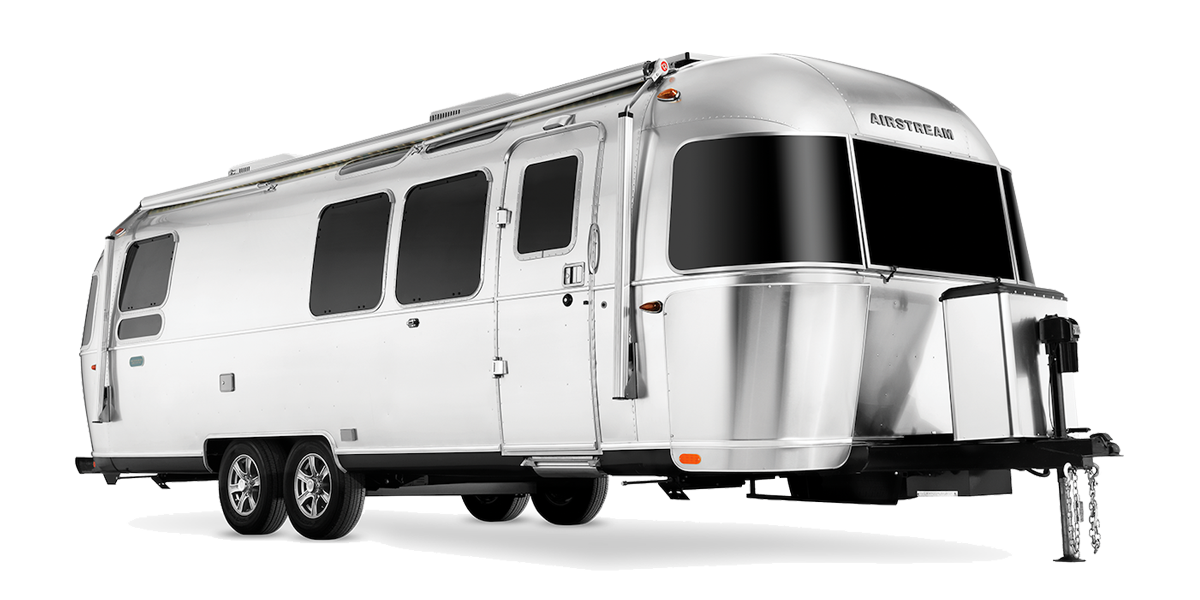 One Design, Two Iconic Brands
Comfortable, connected, and capable of letting you travel anywhere while feeling like you're always home, the all-new Airstream Pottery Barn Special Edition Travel Trailer is a gorgeous, 28-foot travel trailer designed in partnership between two iconic brands.
Airstream
TRADE WIND
Go Farther and Stay Longer
The all-new Airstream Trade Wind ™ Travel Trailer is a flexible, stunning, and supremely off-grid-capable addition to our iconic lineup. From weekend camping trips to extended boondocking excursions, Trade Wind is versatile, powerful, and designed for today's modern travel adventures.
Airstream
FLYING CLOUD
Soar In Total Comfort
The Flying Cloud is our most popular, versatile, and family-friendly travel trailer. With more floor plans available than any other model, there's a "just right" for everyone. And the light and airy design keeps you ready to float from one adventure to the next, bringing your comfort zone right along with you.
Airstream
CARAVEL
Elevate Your Explorations
There's no reason your getaway vehicle shouldn't have just as much style as your home. The revival of our historic Caravel Travel Trailer line has an upscale modern interior, with clean lines and sophisticated residential fixtures, and a neutral canvas on which you can add your personal taste.
Airstream
BAMBI
Big Adventure In A Small Package
Heard the Bambi name before? For years, it's been a nickname for our smallest single-axle travel trailers. Bambi is its own official model with space-maximizing options ready to deliver a huge upgrade up for tent campers. Bambi takes care of all the little things you need, so you can get out there and have some big adventures in a small trailer.
Airstream
BASECAMP
®
Always Ready For Adventure
Built for adventure, it's a small camping trailer that's tough enough to go anywhere your wanderlust takes you, and comfortable enough to help you really enjoy the time you spend there. Pack up and go anywhere you please, with nothing holding you back.
Airstream
REI CO-OP
SPECIAL EDITION BASECAMP
Expand Your Adventure
More space. Upgraded features. Endless adventure opportunities. The new Airstream REI Co-op Special Edition Basecamp builds on everything that made our first collaboration a success and expands this partnership between two iconic outdoor brands.
THE ICONIC AIRSTREAM
The World's First and Most Traveled Trailer
NEW Airstream Travel Trailers For Sale in Fort Myers, FL
For more than eight decades, Airstream travel trailers have been icons of modern design and RV travel. The aerodynamic aluminum exteriors turn heads on the highway and inside are all the comforts of home you could ask for – and then some. Each travel trailer is thoughtfully and carefully crafted to last a lifetime, and to inspire all kinds of new adventures along the way.
‍
This latest fleet of Airstream Travel Trailers continues the tradition of extraordinary design and hand-crafted quality that has made Airstream world famous. These models offer the latest technology advancements and conveniences in a way that is distinctly Airstream. The nice thing about owning a travel trailer is that it gives you a flexible way to vacation across the country. With travel trailers perfect for everyone from first-timers to seasoned Airstreamers, you're sure to find one ideal for the journey that awaits you. So what are you waiting for? It's time to #LiveRiveted and find the travel trailer that sparks the adventurous side in you.
VIEW TRAVEL TRAILER INVENTORY